# 28. Take three spontaneous day/weekend trips. Yay.....I completed a third of a task! Ok, I know I can't mark it off, but it is a biggie.....especially for me. I plan vacations.
Ryan and I along with his parents, Dave and June went to southeastern Arizona to Kartchner Caverns.
History:
In 1974 two cavers Tenen and Tufts were exploring the limestone hills at the base of the Whetstone Mountains. In a sinkhole they found a crack where warm air flowed out signaling the existence of a cave. They explored and found themselves in a pristine cavern. Over a period of four years they secretly explored the cave. In 1978 they told the property owners James and Lois Kartchner about their amazing discovery.
These caves only became publicly known in 1988 when the property was purchased by the Arizona States Parks in order that they were preserved and open to the public in a controlled way.
My Review:
LOVED IT! I have been wanting to go for YEARS now. We decieded to go to the Big Room tour. I would like to do the other tour sometime as well.
We started our tour at the informative Discovery Center which told us about the history of the cave and how the formations were formed. We then joined our guide for the tour. Passing through various airlock doors we entered the cave. The cave average temperature is 75+º F with 99% humidity so it felt like walking into a sauna.
The cave is home to several very unusual cave formations. One feature is a soda straw stalactite 21 feet 2 inches long which is one of the world's longest. Also the cave has the most extensive deposit of brushite moonmilk which is a reaction of bats guano (poop) with the cave minerals to produce a white crystal. The cave is also the area for the first reported occurrence of "turnip" shields formations that look like small turnips and the occurrence of "birdnest" needle quartz formations.
Our guide was excellent in explaining how each of the different formations were occurring and also explaining the work the Arizona state was doing to preserve the caverns in as pristine state as possible. We now understood why there was no cameras, videos, bags, water etc allowed to be taken into the cave.
In two weeks, they are celebrating their 10th year anniversary. I would have liked to go to their celebration.
http://azstateparks.com/Parks/KACA/
My favorite formation: Bacon or Sheets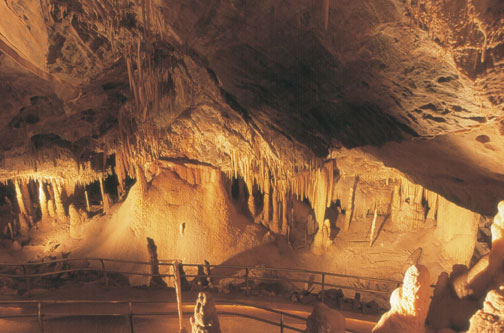 We also when to Tombstone, Arizona. We walked around the shops and toured the courthouse museum. I was bored out of my mind. I would like to go back when I had a better attitude and wasn't so exhausted. I just wanted to go home.